Contemporary Master Class with Joshua Pelatzky at Joy of Dance Centre November 4, 2013
Renowned Choreographer, Performer and Contemporary Dance Teacher, Joshua Pelatzky, is coming to Joy of Dance Centre November 4, 2013, 8-10 p.m. to conduct a 2-hour, one of a kind, Contemporary Master Class.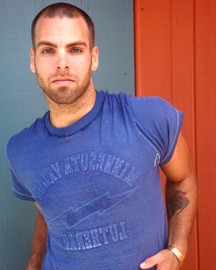 Joshua Pelatzky brings a wealth of experience to his Contemporary Master Class. Joshua's training is extensive and includes the Alvin Ailey School, Broadway Theatre Project and Ballet Magnificat to name a few. Currently, Joshua is teaching at the Broadway Dance Centre in New York.
"We are thrilled to have someone of Joshua's caliber at Joy of Dance. Our teachers and contemporary dancers welcome the opportunity to take it to the next level," says Jennifer Jones, CEO Joy of Dance Centre in Toronto.
For Joshua, Toronto is a place that he loves. "From all my travels, Toronto has some of my favorite dancers. I can't wait to get back and work with some incredible artists."
Joshua has received many awards for choreography including Choreographer of the Year and Young Choreographer of the Year. He has been featured in several showcases internationally including Carnival, Broadway Underground, Sirens After Dark, Botega, World Dance Movement and Broadway a Tropea. Joshua choreographed and danced in the Darwin Deez' music video 'DNA' which landed him a nomination for a UK Music Video Award. He has also been commissioned to set site specific work for art gallery openings. He has taught contemporary and street jazz throughout Japan, Canada, France, Italy, Poland, Czech Republic, Switzerland, Holland, Spain and Israel. Joshua is on faculty at Broadway Dance Center in New York City and at The EDGE in Los Angeles. You may also follow him around the world at World Dance Movement.
This exceptional class is for intermediate and advanced dancers. Register early at www.joyofdance.ca as capacity is limited to 30 people.
Joy of Dance Centre is dedicated to the best in all things dance from Ballet to Ballroom. Located at 95 Danforth Ave., Joy of Dance is easily accessed via public transit or, if driving, public and street parking are available.
# # #
For more information contact Ellen Smith, Director of Marketing at 416-406-3262 or at ellen@joyofdance.ca. Please visit the website at www.joyofdance.ca for general information or www.facebook.com/joyofdance