JOD Annie Lebeva Dances the CIBC Run for the Cure Oct 6
Run It. Walk It. Jog It. Dance It.
Annie Lebedeva, Ballroom teacher at Joy of Dance, wants to help find a cure for breast cancer. Keeping women healthy is one of her passions. That is why Annie is doing the CIBC Run for the Cure on October 6, 2013. That is also why she's adding a slight twist to exactly how she does it. Annie has pledged to dance her way to the finish line no matter what.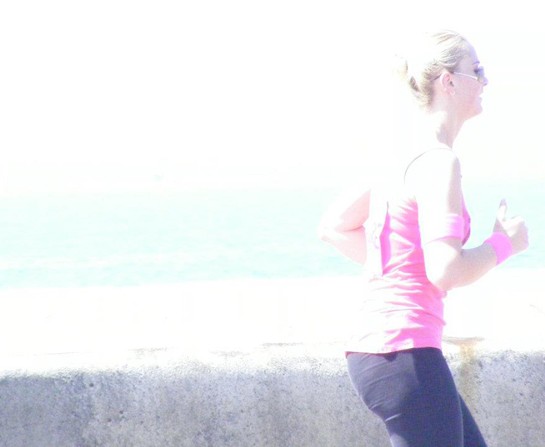 "Cancer affects all of us in some way," says Annie. "Fund raising for this event is a way to raise awareness and generate the necessary monies for research, hospice, medication, and care, all of which are essential. Cancer is an expensive disease on so many levels. The toll it takes emotionally and financially is a heavy one."
"The women who suffer from this disease are our mothers, sisters, daughters, grandmothers, aunts and friends," says Jennifer Lambert Jones, CEO of Joy of Dance Centre. "We are very proud of Annie and her commitment to participating in this important event. We are with her every step of the way."
Annie is not new to this run. While living in England she put her running shoes on and ran the 5k, raising £500. Now in Canada she continues the momentum with the goal of raising $1,000. She believes that by keeping awareness high we are giving someone hope and potentially a future.
"Dancing to the finish line is my way of keeping the conversation going," says Annie.  "I believe that dance is transformative so why not use it to find a cure."
To find out more about Annie Lebedeva from Joy of Dance go to www.joyofdance.ca or www.runforthecure.com/goto/anfissalebedeva.
*********
Joy of Dance Centre is dedicated to the best in all things dance from Ballet to Ballroom, Latin to Zumba. Located at 95 Danforth Ave., Joy of Dance is easily accessed via public transit or, if driving, public and street parking are available.
Contact: Ellen Smith
Phone: 416-406-3262
Cell: 416-312-7446
Email: ellen@joyofdance.ca